Digital health
Telemonitoring
Health parameters such as blood pressure or heart rate often have to be measured for the correct diagnosis to be made and the course of the disease to be monitored. This usually takes place at a medical practice. However, isolated measurement is not always enough. Telemonitoring enables medical practitioners to also check such parameters remotely and if necessary to act quickly.
At a glance
Telemonitoring refers to the monitoring and evaluation of important health parameters remotely.
Modern telemonitoring measures health parameters electronically and continuously transmits them digitally.
Telemonitoring can help doctors to treat the chronically ill better.
Telemonitoring can also be used to prevent an illness and support treatment.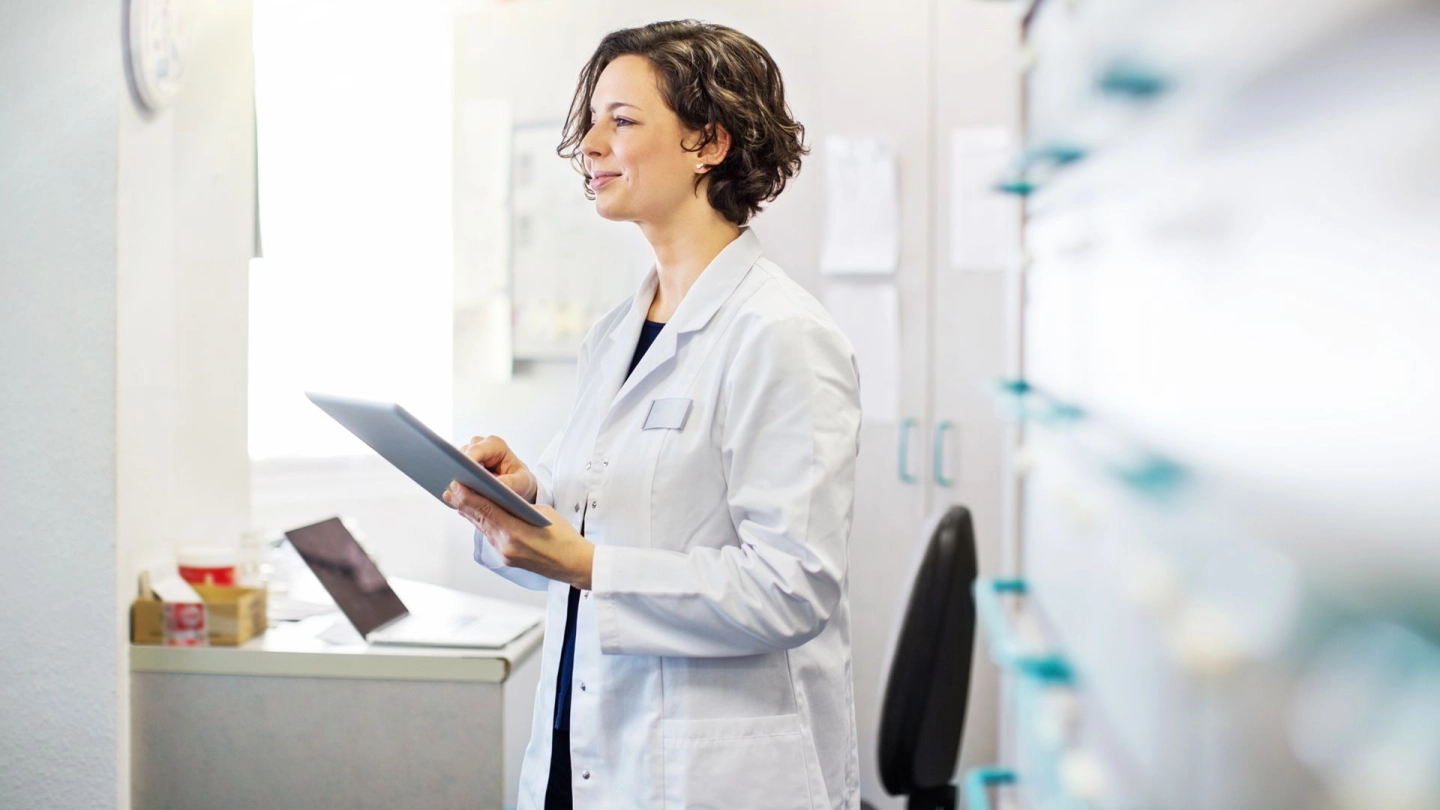 What is telemonitoring?
Telemonitoring refers to the monitoring and evaluation of important health parameters remotely. These can include blood pressure, blood sugar levels, body temperature and weight and the electrical activity of the brain and heart.
To record such parameters, patients are given, for example, portable measuring devices or apps in which they can enter the parameters they have measured themselves. These health parameters are then transmitted by radio or internet to a telemedicine center, a hospital or a medical practice. The data can be used to better and more quickly recognize health developments – by medical practitioners or automated.
They will also be able to more clearly tell how treatment is going. Telemonitoring can mean greater safety for patients with chronic illnesses. Any deterioration in their health can be detected early on. This means that the treatment can be continuously adapted to the individual needs of the patients.
Telemonitoring can not only be used to constantly keep an eye on the health parameters of sick people. Telemonitoring can also be used for prevention and for aftercare.
How is telemonitoring used in the chronically ill?
Possible areas of application for the chronically ill can include the treatment of arrhythmias, high blood pressure, asthma, type 1 diabetes and type 2 diabetes.
Telemonitoring can be particularly helpful for patients with chronic heart failure (cardiac insufficiency). If parameters such as weight, blood pressure and heart rate are checked remotely, doctors always have up-to-date information to take appropriate action. This means they can, for example, adapt drug treatment to the patient's individual state of health.
Telemonitoring can also offer advantages and greater safety in the treatment of patients with arrhythmia who have been fitted with a defibrillator – for example, by automatically pointing out possible emergencies at an early stage.
Telemonitoring can also make everyday life for the chronically ill considerably easier as the travel distances are reduced.
Diabetics can keep an electronic diabetes diary and use it to document blood sugar levels, insulin doses injected and carbohydrates consumed. The doctor receives this information automatically via the app or email.
Preventing illnesses and supporting treatment with telemonitoring
Telemonitoring can also help to prevent illnesses or counteract the progression of a disease. Basic health parameters can be continuously recorded, transmitted and assessed for this purpose. For example, if someone is on a diet it can help to document body weight, diet and daily activities in order to adapt a program to the progress made.
In many cases the evaluation can be done automatically. For example, apps provide information when parameters are not very favorable. Information collected and transmitted preventively can also help doctors to better understand diseases that occur later.
During a treatment and aftercare, telemonitoring is suitable for monitoring the course of the illness and how the healing process is going. Doctors have the option of adjusting measures and medication promptly to current developments.
How does telemonitoring work?
The means used to implement telemonitoring measures vary considerably. Most of the time technical devices are used. The most advanced type is online monitoring where the desired parameters are measured by electronic sensors and continuously transmitted digitally.
These medical sensors can, for example, measure and digitally record blood pressure, heart rate, the electrical activity of the brain (EEG), the electrical activity of the heart (ECG), blood oxygen saturation, lung function, intraocular pressure and many other parameters. As these data are digitally available, they can be easily transmitted to doctors, hospitals or telemedicine centers.
Apps and other programs are also able to continuously evaluate this information and provide information automatically – for example when life-threatening developments emerge.
The parameters can also be incorporated into other digital health applications, for example into the electronic patient record. This can even be done automatically if the patients so wish. The parameters are then reliably transmitted to the doctors even without the patient having to do anything.
What are electronic health records and the ePA app?
The video below explains the benefits that the electronic health record or ePA for short brings and how data is transferred.
This and other videos can also be found on YouTube
Watch now
The privacy policy indicated there applies.